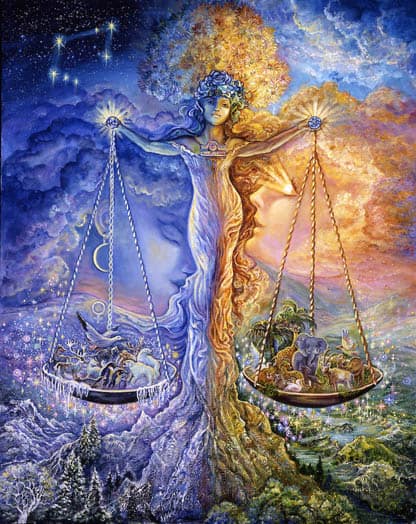 Jupiter in Libra (September 9, 2016 – October 10, 2017, Retrograde February 6, 2017, Direct June 9, 2017)
Once every 12 months, the mammoth planet Jupiter makes its way into a new sign. We are right on the heels of Jupiter stepping foot into the pleasant and accommodating sign of Libra, the sign of scales and therefore, balance. Since Jupiter's nature is to expand the reach, explore ways of breaking free and taking risks, the coming 12 months implies this may be an ideal time to reach happy compromises.
But much like the above-mentioned scales, it is the nature of Libra to experience radical swings of the pendulum before settling upon the ideal fulcrum point. We are blessed with opportunities to engage, to hold out olive branches, to meet one another halfway. Libra recognizes that we don't live in a vacuum ­ we live in a world of relationships.
So whenever two entities come together, there is a potential to complement one another, once we are aware of what the other brings to the table. Libra strives for fairness. It likes to please and therefore appreciates the necessity for charm and diplomacy. Yet, Libra can be a great advocate for others, and in that arena, they willingly fight for what they deem as fair. So they are willing to go to war to achieve peace.
On a global level, it wouldn't be surprising to see a clear pushing of the edges of legal envelopes, and an overstepping of bounds. It can also be a healthy planetary backdrop for laws seen as extreme, to be moderated. Again, finding that happy medium, that sensible middle ground.
As pleasant as Libra can be, Jupiter's trek through this sign will see its own challenges. Before it enters Scorpio next October, it will create what is called a square, a hard aspect, to Pluto. The first will be the week of November 21 of this year, the next being late March of 2017 and the last in early August. Power struggles could easily be on the radar at these times. Late September of next year brings an opposition between Jupiter and Uranus. Collaborative ventures could result in surprising outcomes.
Below you will find a generic view of how the 12 signs fair as Jupiter makes this journey through Libra. It may be helpful to read up on not just your sun sign, but also your rising sign. Your rising sign can only be ascertained if you know your time of birth.
Jupiter in Libra for Aries
Jupiter will be moving through your solar 7th house, which is the area of the chart associated with partnerships and relationships. This is an interesting position for you, because Libra is your opposing sign. So it truly invites you to reach out to others and share your life. Being an opposition, this implies a contrast. Aries, by nature, can be perfectly content going it alone. They are happy to be their own boss and boss their own being. But right now, joining forces seems to be an appealing direction to lean.
This can imply entering into a marriage or into some other sort of legal partnership. If you are currently attached, you may actually be feeling the opposite. There may be a temptation to spread your wings and declare some freedom, some space. It doesn't have to be permanent. Forging new relationships can enrich existing ones. Perhaps you'll find people of different nationalities, or people well-traveled, swimming within your midst. Reaching out to others becomes quite a learning experience. In so doing, you may find people who are adept at advocating on your behalf. This position of Jupiter bodes well for legal matters. They don't necessarily have to be contentious, since Libra is happy to compromise.
Jupiter in Libra for Taurus
If you're looking for cosmic support to move your daily habit patterns in a different direction, you've come to the right place. Normally, when discussing your sign, the concept of slow but sure comes into view. Yours is a sign of consistency, dependability, reliability, staying the course and not rocking the boat. But every once in a while that path can seem a little boring. It's the same old, same old. So even if it feels comfortable to stick with the tried and true, Jupiter's movement through your solar 6th house affords you the opportunity to take a risk and climb out on a limb. Ordinarily, the recommended pace for you would be to ease into things in due time.
But Libra is different. Being that sign of extremes, you could wake up one day and just decide that today is a day unlike no other and there's nothing stopping you from taking a leap. You may want to be more physical, more active or bolder. Trying something radical or drastic may seem like the thing to do. At first it might seem extreme, but after a while, once you get into the groove, you'll find ways of making this plunge work for you. This cycle isn't necessarily restricted to your health. The solar 6th house represents your field of employment. Perhaps you're getting antsy and feel like treading on different terrain. Go for it. This is a great time to broaden your geographical reach. Getting outside to see how other regions embrace their potential, may have reverberating effects on your own ventures.
Jupiter in Libra for Gemini
This is a most pleasant placement for you twins because Jupiter is occupying the mutual element of air. Objectively is the name of the game, being an element of facts and ideas, just as God intended life to be lived. So you're speaking the same language, essentially. In your solar chart, Jupiter is now traversing your 5th house, which encourages you to go all out when having fun, playing and celebrating. It's not too shabby for romance, either, giving you opportunities as well as options.
The intellectual give and take is very stimulating, since you thrive on absorbing knowledge in a wide array of topics, and the people you're encountering are more than well-versed in their area of expertise. Outside of the romantic arena, keep in mind the need to honor life itself. Whether your interest is theater or arts or fashion, you're sure to find quite alluring venues that peak your interests. Another arena worthy of exploration is that of children. There can be a literal broadening of the family or you may find yourself pulled toward child-like avenues of entertainment. Explore the child within. One more manifestation of this time involves taking control of the reins and steering your ship. Take pride in what you're directing.
Jupiter in Libra for Cancer
Yours is the sign associated with things related to home, since the creature that symbolizes you, the crab, carries its home on its back. So this cycle can work well for you since Jupiter will be occupying your solar 4th house of home for the coming year. This affords you the opportunity to bring aesthetic touches to your home base, bringing into balance whatever may be slightly off kilter. Whether it's the look of your home or the relationships within, now is the time to make headway.
When it comes to family relationships, perhaps there's a need to bring more balance into this realm. Share and share alike, be it the responsibilities, or viewpoints on how to make the home life workable for all concerned. If you're looking to relocate, perhaps a priority on your radar is to find a place that gives you enough elbow room but at the same time also feels radically different from places you're inhabited before. Peaceful surroundings are very important. That doesn't necessarily mean you have to be isolated, but having a serene and cozy place to lay your head is what's it's all about. And if you have special people with whom to share this sacred place, all the better.
Jupiter in Libra for Leo
You have a lot on your mind these days and now is the time to let the world know just exactly what those thoughts are. It feels as though you've got an important message to convey or perhaps you've got a literary work that is eagerly awaiting inception. Whatever the case, this cycle is all about communication. Do you feel like broadening your vocabulary or your grasp of other languages? If so, you couldn't find a better time, astrologically speaking, to enhance that knowledge base.
Luckily for you, this process is anything but daunting. After all, it has been said that learning can be fun. And in your case it looks like it can be downright playful. Other possible manifestations of this cycle include the expansion of your geographical reach. It appears that surrounding regions are broadening their appeal. Neighboring cities and states seem to be calling your name. Reaching out to immediate neighbors also proves promising and rewarding. And if you have siblings, this is a lovely cycle for coming to workable agreements. So roll out that red carpet of diplomacy for one another.
Jupiter in Libra for Virgo
Money, money, money. It's either that or love that makes the world go round. Thanks to Jupiter moving through your solar 2nd house of assets, this cycle bodes well for you in the finance department. Jupiter, the planet of opportunity, is swinging the door wide open for you to broaden your economic picture. If your finances are already looking favorable, expect to see an upswing. And with that in mind, this is a fortuitous time to make major expenditures. If you're looking to purchase a car or other significant investments, now is the time to take that leap.
Good opportunities, as in good deals, will be afforded to you. If your finances have room for improvement, you have reason to be optimistic. The wise approach to a cycle like this is to widen your search in terms of your playing field of options. Perhaps there are opportunities in the mix that originate from places a bit distant to where you currently reside. This doesn't imply that you're required to move. In this digital age, it's simply saying that there are places all around the globe that can benefit from your technical talents. So cast as wide a net as possible.
Jupiter in Libra for Libra
Luckily for you, Jupiter is now in your sign. This won't happen again for another dozen years, so seize your opportunities within the coming year. You're in a good place to take a leap of faith. If you're feeling gutsy and want to expand your reach, travel, take risks and create a more playful existence, now is the time to take the dive. You're likely to have a nice little safety net taking care of you. The biggest precaution associated with such a transit is allowing naiveté to take hold.
Yes, this is a time to widen your reach, but be sure you have enough knowledge and understanding to make this workable. And since you have an entire year to take advantage of this influence, it might be wise to start off the cycle by broadening your knowledge base first. Learn another language or become better versed in cultures outside your own. Once you have enough of that learning curve under your belt, you'll have the padding you need to make an even bigger leap. Just watch the temptation to overdue. Your eyes may be bigger than your stomach. Get physical or else be prepared for a little extra padding, such as love handles, to accrue.
Jupiter in Libra for Scorpio
Sometimes blessings come in ways that aren't necessarily obvious on the surface. Although you may not be able to put your finger on it, there is a sense that you have a lot of protection in your corner. Perhaps you're sensing that people are coming to your rescue or that somehow you're feeling elevated by a sense of inner peace. This is not your imagination. Rather, this is a sign of your guardian angels at work. Jupiter is now moving through your solar 12th house, suggesting that you have fallback positions, especially from places like churches or other religious institutions.
Should there be the need to deal with hospitals or other places where loved ones are nestled away, have faith that the care they need is there for the asking. Additionally, this is a great time for tying up loose ends and finishing up unfinished business. Take heart that you're well cared for when taking a breather or getting away for an escape. Solitude may become you and very well could be your saving grace. It makes it easier for you to be receptive to those subtle gifts.
Jupiter in Libra for Sagittarius
If anyone has ever accused you of being shy and retiring, perhaps you need to double-check your birth certificate to make sure you were really born under this sign. As fate would have it, your ruling planet, Jupiter, is now traversing your solar 11th house. You can rest assured that this is far from painful. In fact, it bodes very well for your social life. Get ready to make new friends, but don't expect them to necessarily reside close by. Not that you're one to complain about reasons to travel.
Yes, the spectrum of colleagues is widening. These folks are well-read, well-traveled and could easily compete with you when it comes to who's the most popular jokester. If the spirit moves you, this is also a good time for social philanthropy. Is there a cause for which you have a soft spot? If so, go ahead and participate. This could easily result in that widening of your social grasp as well. And you feel a common bond with these folks because you truly understand them.
Jupiter in Libra for Capricorn
This cycle calls upon you to adjust the way you relate to people, especially when it comes to your career. Libra is a vastly different sign from yours. Its aim is to please, accommodate and play the game of diplomacy. Your sign is more bottom-line oriented, not nearly as invested in winning popularity contests in comparison to others. So it will be worth your while to play along with this different melody for the time being. It is by no means painful, and in fact, you may find that as a result of wearing that hat of diplomacy that you go farther than you would have anticipated.
There's plenty of territory available to you, lots of ground to cover. Spreading yourself thin won't be an issue ­ in fact, it will be downright entertaining and enjoyable. Gravitate toward humor and if appropriate, you might even find that your knowledge base is one of opportunity, and therefore something from which you and others can benefit. If you find that your role is being somehow shared with others, rather than you having to go it alone, take this as a compliment.
Jupiter in Libra for Aquarius
You have good reason to be pleased by Jupiter's current cycle: After all, it's in the fellow air sign of Libra and is therefore occupying your solar 9th house, which has to do with broadening your reach. This bodes well if you're in the market to travel, especially of the long-distance variety. In fact, the farther, the better. If physical travel is not on the horizon, then the next best thing is to make connections with those afar, be they out of state or out of the country. Luckily, the people with whom you're connecting seem to be on the same page as you, intellectually speaking.
They understand your mindset and you may find theirs to be quite fascinating, thereby opening up the doors to further learning. And speaking of learning, if you find your mind hungering for more knowledge, by all means get back into the study mode. This process will be fun and enlightening, so have no fear of knuckling down to late-night studies. You'll be gobbling up this knowledge so easily, that you could even teach it when all is said and done.
Jupiter in Libra for Pisces
For you, dear fishes, this Jupiter transit in Libra activates your solar 8th house, which is the area of the chart associated with other people's resources. That's a fancy way for saying other people's money or shared money. The good news for you is that this bodes well if you're looking to somehow go into a partnership with other people or entities. There may be generous sources of assets available to you now, in the form of loans or inheritances. So if you have a venture going that is in need of some capital, by all means go ahead and search for that funding.
The chances are you'll be able to strike a very workable deal, one that is mutually beneficial. This is also a good time to examine such things as insurance policies and wills. You could be in a good position to establish better rates on policies or possibly reap benefits from those who are no longer with us. On a different note, don't be surprised if your subconscious mind seems to be busier than usual. Your dream world could easily become more active and possibly find you traveling to places one can only find in the sleeping state.
——————————————————–
By: Kathryn Silverton, Astrologer
Organization of Professional Astrologers
Planetary Perceptions