Online Psychic Jobs – Psychic Help Wanted To Work From Home!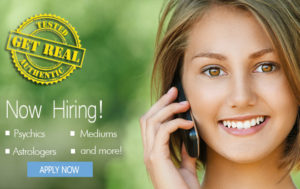 Join the best professional psychic advice directory on the web! If you're a sincere and authentic psychic medium, astrologer, tarot reader, numerologist, reiki practitioner, dream interpreter, meditation facilitator, pet psychic, or past life reading professional– we're looking for YOU!
Heart and soul centered, authentic and experienced phone, chat and email advisors wanted for our busy Whispy Psychic Advice Network. Work from home with no application fees and the lowest service fees anywhere!
If you have psychic reading, astrology, clairvoyant, tarot reading, or energy healing skills and you would like to offer them in a friendly, non-competitive and professional Spiritual Community where you are genuinely valued rather than than being just a phone extension and pin number, then we would love to hear from you!
This website is not just a well-known and respected Name – We are caring and compassionate families and individuals who are always available to support and encourage our wonderful advice team and community members. If you are interested in joining our Directory, you must complete an Advisor Application to be considered.
Psychic Help Wanted PLEASE NOTE: We test all of our readers personally and we only approve the very best. We expect efficiency and professionalism from our readers and acceptance is very limited. We must have confidence and pride in our staff .Only those who have the ability to work to the highest professional and ethical standards and are detailed, honest and emotionally intelligent will be considered. Confidence that Whispy Psychic Advice provides only the best readers, is more than worth the small amount of time and effort it takes to ensure that only qualified applicants are accepted.
Are you an exceptional psychic reader looking for a rewarding psychic job? We are now looking for readers to join our award winning team of psychics to work on our telephone service, email and online chat service.
We are Hiring Psychics, Astrologers, Tarot Readers, Healers and Clairvoyants ~ Great Pay & Flexible Schedules
YOU'LL LOVE WORKING WITH US!
Benefits of Psychic Jobs at Whispy Psychic Advice
UNBEATABLE PAY!
No upfront fees or costs. You can offer and share your gifts in a way that you can be proud of and set your own rate of pay. We have the LOWEST service fees in the Industry so you can keep more of the money you earn for yourself–while keeping your rates affordable! Why wait a month for your pay? Psychics will be paid weekly every Friday via direct deposit or PayPal.
No call averages required. No mandatory Marketing "Scripts" or "Pitches" to mimic and reiterate.
FRIENDLY COMMUNITY!
Here, you'll have Colleagues that you can get to know rather than Competition that you must surpass on the free minute phone lines, and in paid featured listings–in order to be "SEEN" by visitors on the site.
FREEDOM & FLEXIBILITY!
Because Whispy Psychic Advisors are self employed, you can be flexible about when you work! Build trust and credibility in your services by [signup link] becoming a psychic reader at Whispy Psychic Advice and offer your professional psychic services, compassionate support, and insightful information to those in need of answers and assistance.
Remember, we're looking for credible, reputable psychics, clairvoyants, astrologers and tarot readers who can deliver high-quality readings for our clients. Our psychics work full or part time from their homes as independent contractors, set their own schedules, and get paid weekly.
Online Psychic Jobs FAQS
Why do psychic work with Whispy Psychic Advice?
Whispy.com's Psychic Advice Network is fresh and new & applies 17 years of professional experience in the Psychic Advice Information industry. Our clients and visitors experience the quality of our meticulous advisor selections, attention to detail pertaining to privacy and security issues, which emanates throughout our services. Our clients also appreciate our simple phone, chat or email psychic reading process. We strive to uphold our reputation as a trusted Psychic Reading Network and clients are ensured the best professional online psychics and psychic readings available today.
Psychic Jobs Available
Our track record of is 98% repeat clients speaks for itself. Our clients immediately notice that all readers are carefully handpicked. We are very "picky," and we're proud of it! Our psychic readers are not signed up "experts". Rather, our psychic readers are contracted professionals.
Whispy.com is only interested in psychic readers with actual reading experience. Actual reading experience is defined as professionals that have experience giving psychic readings to clients either via a Professional Online Psychic Network or private psychic practice.
Professional reading experience is NOT defined as experience giving an "once in a blue moon" free reading to a family member or friend. Professional experience is not defined as having a deck of tarot cards 'laying around somewhere'.
We are seeking psychic advisors, astrologers, clairvoyants and tarot readers to start immediately to give psychic advice via phone, live chat readings and online psychic email readings. We employ no 'availability requirements'. This will be YOUR business. (We do ask that you make sure you log OFF each time – when you are not available to receive calls)
All psychics and live advice providers are considered independent contractors and will be responsible for their own taxes. Schedules must be setup in your administrative web interface. Stats will be available in your administration area.
[sign up link] Psychic Job Application! – Registration and Setup is Free!
Please note: We receive hundreds of applications and signups weekly and do have a waiting list. Please allow up to 5 business days for an email reply. All NEW psychic accounts are automatically placed on hold by the system, until and interview has been completed the listing has been officially approved. You will be notified by email when your account is active and live in the directory.
Psychic Jobs at Whispy Psychic Advice
WAITING LIST PLACEMENT: Place Yourself on a List to join our Family Of Professional Psychic Readers and Spiritual Advisors in Whispy Psychic Advice's Community of award winning team of Psychics and Metaphysical Professionals
Top 10 Reasons to Use Whispy Psychic Advice Network System for your Psychic Job Services:
Lowest service fees in the industry!
Flexible design empowers you to market your advice service directly in your website, our website, in emails and in online ads
Elegant design enables you to integrate the system into your Internet properties in just minutes
"Double-blind" phone and email system means both Advisors and Users can maintain privacy
Automated client billing process ensures prompt WEEKLY payment
Features such as scheduling appointments, busy and unavailable prompts, and the 30-second buffer zone ensure good connections
International capabilities. You can choose to receive calls from paying customers from anywhere in the world
Full, real-time transaction log of all activity offer complete reporting system
Group program empowers you to manage your advice Services from a Group-specific interface
It is FREE to signup and setup
Even when users or advisors do not have access to a computer or the Internet they can still access the new system thanks to the new Apps recently launched
Psychic Jobs Bottom Line
You need to communicate with customers online. If you don't, you will lose them. Connecting clients to your immediate services is critical to serving existing customers and cultivating new ones. The user-advisor connection is made possible via Whispy Psychics advice's Call technology. A is a unique and effective platform for obtaining new customers.
Capturing the attention of potential customers by providing a live connection gives you a significant competitive advantage. Whether you're looking to establish a presence on the internet or are simply interested in branding your existing client base and offering live advice to existing clients – Whispy.com. is an affordable, creative, and effective way of developing or promoting your business.
As always, we greatly encourage and appreciate your feedback and suggestions for improving the system, so please keep them coming. If you know of anyone else that would benefit from, and enjoy offering their services through our live advice network, please do let them know about us!