Psychic Lucky Lynx
Psychic Lucky Lynx is an intuitive Lenormand card reader who offers traditional and not so traditional fortune telling, psychic reading, and esp services.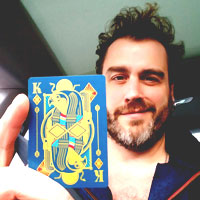 Sometimes a person seeking at a crossroads encounters a rare individual with unusual knowledge: cards, palms, dice, crystal balls, tea leaves. You wouldn't be here now if you weren't at a crossroads. What if you're on the verge of some great discovery? There is no such thing as coincidence. Only inevitability. Book a reading now and reclaim what you might have missed.
Lucky Lynx tarot – Readings by Lucky Lynx

Gifted with second sight, psychic Lucky Lynx is also the creator of Lucky Lynx Oracle, Lucky Lynx Magic Loteria Dice along with a few oracle cards and a new waterproof Lenormand deck that would survive any tea party! He has a great sense of humor with very clear insight and is always willing to tell the truth to any question or concern you have.
"I'm the guy at the crossroads you've read about who helps people take that next step… "
Psychic Lucky Lynx brings over 15 Years of experience to his clients and has delivered thousands of successful, professional psychic readings. He caters to black-tie affairs, college campuses, and live radio programs just to name a few.
He has also presented at the pillole erezione opening of the Illinois State Historical museum and has lectured in state historical circles on the occult for last decade. Psychic Lucky Lynx has developed his own Fortune telling oracles including; The Black Cat Oracle, The Lucky Lynx Fortune Cards, The Lucky Lynx Fortune Dice, Lucky Lynx Magic Loteria Dice, The Lucky Lynx Kaiju Oracle, Love Oracle, Necromancy Oracle and Unlikely Hero Oracle. He is also founder of the wildly successful and enigmatic North Star Psychic gallery in Northern Illinois which enjoyed its heyday in 2005.
Lucky Lynx can read from everything including crystal balls and playing cards (cartomancy) to tea leaves and palms–and most everything in between. You can learn how to do some of these ancient arts on his Youtube channel where he demonstrates in anecdotal how-to format.
Lynx uses whatever tool best gets you the information you need. So, the question is: What is your greatest wish, and your fondest desire?
Why does Lucky Lynx practice divination?
I wanted a deeper understanding. I started looking for it first in literature and old fairytales. Divination contained the same archetypes that those old stories did and it proved to be more honest than most of the humans I'd met who'd set themselves up as spiritual, educational and philosophical authorities. Those people seemed more interested in their own need to be seen as authorities than in asking the important questions in life such as: Why are we here? What can we do to make a difference? Why do we suffer? Why are most humans miserable but won't acknowledge it? Why do we die and what lies beyond death? Why are people lonely? How do you find purpose? How does the mind work? Why do we feel? What is love and hate? What are the people who are ruling over us really doing?
Is your fate fixed in stone? How do you get a yes or no answer in the Tarot? What happens when you change your mind about something, do the cards change? Give him a call and find out!
"People who want to be treated like and who choose to act like children shouldn't wonder why they cannot make adult wishes come true. Maybe it's time for a psychic check up!?"
Call now ☎ 888-626-7386 ext. (dial-in ID) 138449 👈