Psychic Fairie Moon Child
Psychic Fairie Moon Child is a professional psychic clairvoyant, clairaudient, empath offering intuitive guidance to empower your life. Accurate, straight forward, 3rd generation psychic, Psychic Fairie Moon Child will also help you gain understanding & insight into love, business, family & personal relationships. .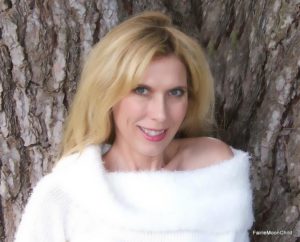 Psychic Fairie Moon Child has shared her gift of second sight with those seeking answers for close to three decades. She helps people:
See and understand the core of their current problem
Resolve and heal old relationship issues
Identify and allow toxic relationships to end
Achieve greater success at work, or take that risk and embark on a new career or business opportunity
Fairie Moon Child reads for  international clientele both in her private practice and online including doctors, CEO's, attorney's, Olympic and professional athletes, homemakers, single mothers and fathers, college students, teachers, artisans, musicians, and professional entertainers.
Speaking your truth doesn't mean dwelling on hurtful or negative feelings. Yes, you may have them. It can happen from time to time. Negativity, however, is not your truth nor in the spirit you were created. You were born from the roots of Love, regardless of the life situation you entered into this world. When you speak your truth, speak from LOVE. When you speak of your life, no matter how difficult the journey has been, know it will get better the sooner you soften your thoughts and come from a place of LOVE.
Psychic Fairie Moon Child enjoys 29 years of professional psychic reading experience utilizing her clairvoyance, clairaudience, claircognizance, and clairsentient  abilities. She also channels Angels, Fairies, and Spiritual Guide's Love (Which means she is an an empathic psychic with second sight and ability to channel information.)
Psychic Fairie Moon Child also utilizes her her Life Coaching skills to compliment the empowering psychic guidance that accompanies her psychic readings. She specializes in healing inner child issues, and providing emotional support and guidance for those who need to learn to break-away from a co-dependent or toxic relationship and into a balanced, healthy, and happy environment of self love and contentment.
"I have helped many clients find the love and happiness within themselves and their relationships that had seemingly evaded them for years. I've helped healing happen, where traditional methods have disappointed or even failed."
Call now ☎ 888-626-7386 ext. (dial-in ID) 138768 👈